To those who still remembered the elusive tiger that put the Ubin residents in fear and raised hot topics for Singaporeans to discuss for a period. The giant elephant that swam across Johore Straits and became a rare visitor in Ubin, and the dry spell that made Singapore government to assist the Ubin residents due to dry well and water shortage on the island.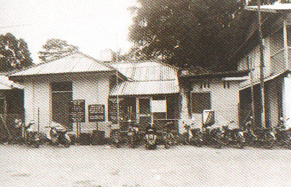 Pulau Ubin is an island mainly made up of granites. In the past, the rocks in the island were used to make floor tiles and were called "Jubin". It was shortened to Ubin. Hence, the island is called Pulau Ubin, or Stone Island as in Malay. It was also once called Woman's Island by the British.
The island is 8km in length, 1.3 to 1.7km in breadth. It has an area of 10.2 sq km, and has 2 islets. One is Pulau Sekudu at the South-East of Ubin, and the other is Pulau Ketam at the South-West of Ubin. Its highest hill is Puaka Hill, being 75m above sea level.
Not far from the bicycle shop is a few seafood restaurants that were opened when a Maternity and Child Health Clinic (M&CH) was closed down on 1 Dec 1987, when demand for its service diminished. It was once a clinic, that provided services like those at K K Hospital. The clinic was also used to be a remand centre for the Japanese and after the war, it served as an opium retail shop.